KUHN, the best investment for my future at SIMA 2022
This year, on the 2 442 m² stand, discover the 20 innovations that the KUHN Group has designed to strengthen your agronomical, technical and economic performances.
Our experts will also be available to inform you on all our technical, electronic and digital solutions.
Also, take the time to visit our KUHN Shop to discover all our new items and enjoy 10% discount!
We wish you a very pleasant and enriching visit on our stand! The whole KUHN team is looking forward to meeting you and sharing this major event with you!
Find us from November 6th to 10th 2022 at Paris-Nord Villepinte
KUHN looks forward to welcoming you in Hall 5A, aisles E + G, stand 032, Paris.
Opening hours:
From Sunday 6 to Thursday 10 November 2022 - 8.30am to 6.00pm

Address:
SIMA 2022,
Centre des expositions,
Paris, Nord Villepinte, France
New KUHN technologies and services at SIMA 2022

In addition to agricultural machinery, the services are also  important for farms and agricultural businesses.
During SIMA 2022, discover all the services available to users of KUHN equipment.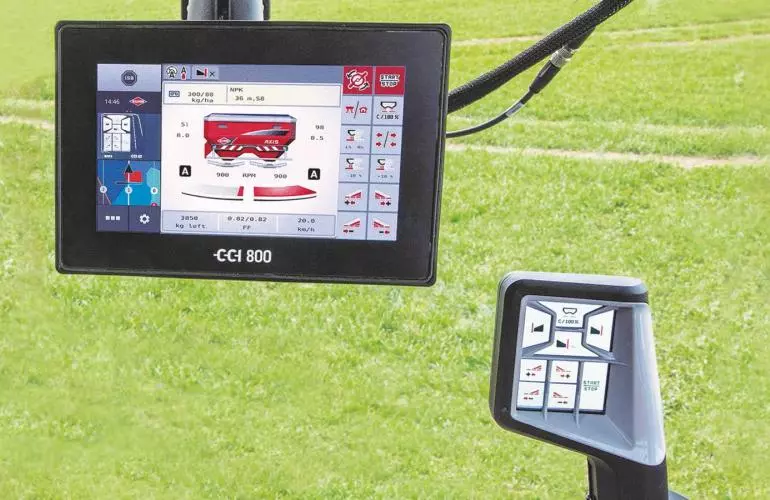 The best ISOBUS terminals on market ! 
Remain at the cutting edge of technology with the ISOBUS standard. 
More than 10 years of success with several thousand terminals marketed throughout the world! Today, CCI terminals and ISOBUS solutions are AEF-certifi ed and remain at the cutting edge of technology by offering many features and applications to improve easily work effi cienc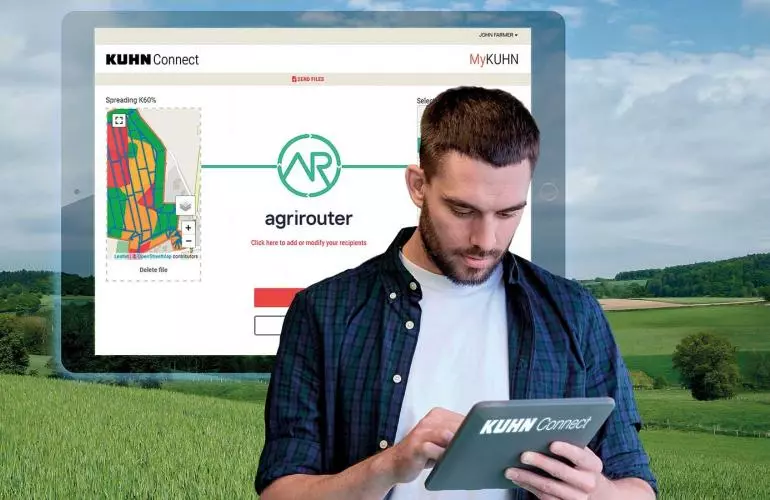 The KUHN Connect service

Finding my connected machines thanks to KUHN Connect
Thanks to KUHN Connect, the new service included in the MyKUHN space, manage your connected machines and access their activity as well as their maintenance plans.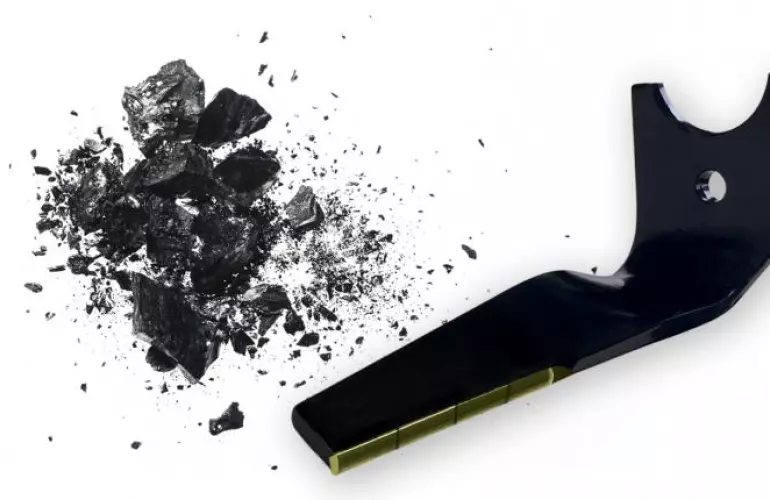 DURAKARB wearing parts with carbide plates

Designed to defy times

A dedicated spare parts place will be present on the KUHN stand at SIMA.
This is an opportunity to discover the DURAKARB range of carbide plates wear parts. A solution to increase the life of the most stressed parts of your equipment.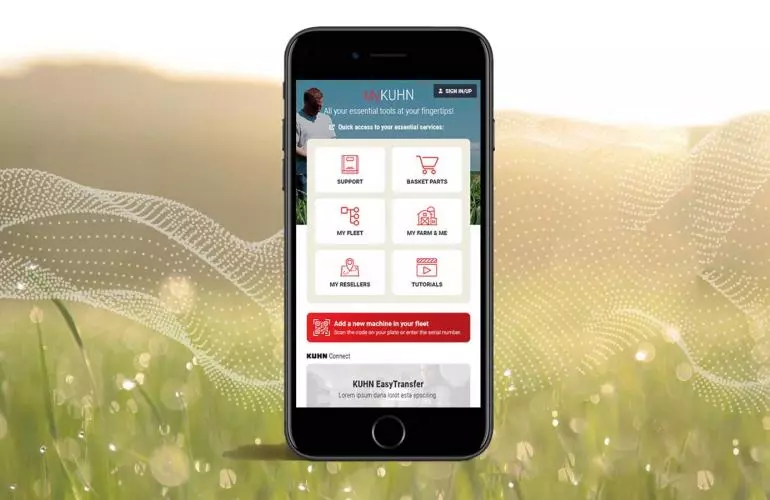 MyKUHN at your fingertips
Thanks to the MyKUHN application, easily declare your machine thanks to the serial number scan function.
With the MyKUHN application, the declaration of your machines becomes:
Convenient: download the app and use your smartphone to declare your machines,
 Simple: a scan of the serial number is enough,
Instant: the machine is directly added to your account.
The new range of HR 1030 R foldable power harrows
HITCH, ADJUST, TILL
Soil is the first essential component for the development of crops. Seedbed preparation consists of breaking up clods, mixing soil and organic matter, levelling and tamping. All this with the aim of creating an environment favourable to the activity of micro-organisms and the rooting of the plant so that the latter can draw the nutrients essential to its development. The new range of HR 1030 R foldable power harrows will be the ideal ally to meet these objectives!
The BTFR 4530 cereal seeding bar & the KOSMA CSM precision seeding bar
NO SOONER TILLED THAN SOWN!
This KUHN exclusivity is made up of 3 or 4 modular machines: a front hopper, a power harrow, a cereal seeding bar and/or bar with precision seeding units.
The BTFR 4530 cereal seeding bar, with a spacing between rows of 12.5 or 15 cm, is equipped with SEEDFLEX 1000 seeding units ensuring sowing precision and evenness.
The KOSMA CSM precision seeding bar is made up of 6 rows spaced 75 cm apart. ISOBUS compatible and equipped with electric drive, it will meet all your needs in terms of precision farming. Coupled with the power harrow and the front hopper, the combination allows you to prepare the soil, sow, place the fertilizer and distribute micro-granules in a single pass for savings in labour, time and fuel!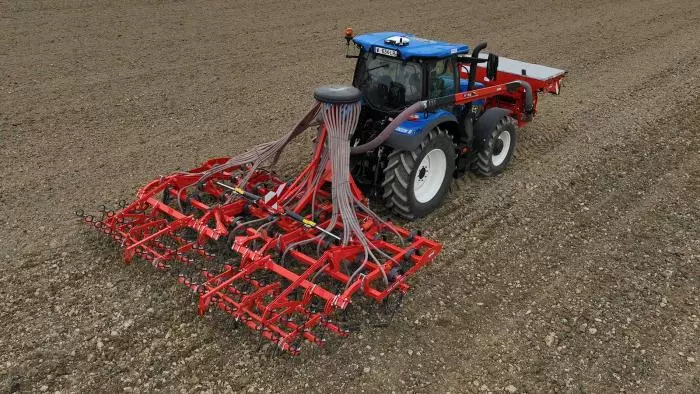 The range of vibrating tine cultivators with the launch of trailed PROLANDER models
THE TINE CULTIVATOR PROLANDER EXPANDS
Rediscover the mounted PROLANDER models with new options.
A triple harrow at the rear can now be fitted in place of the roller to, depending on the conditions, leave an aerated soil, improve straw distribution or even increase possibilities on sticky ground.
A seeding kit behind the tine has been developed to provide an efficient onepass solution as well as improved versatility on your PROLANDER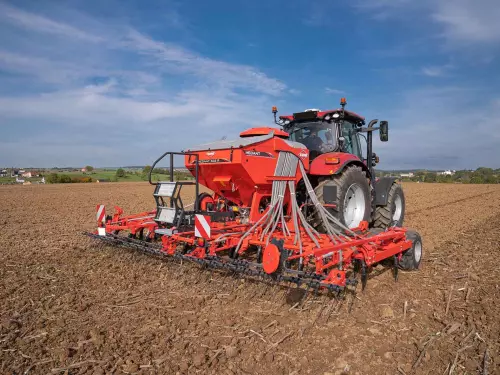 MEGANT 602 R
ALL-WEATHER SEEDING
Synonymous with versatility, it is also capable of sowing in wet or stony conditions, or even in the presence of plant residues.
The MEGANT 602 R has new features:
New 12 mm fi ne and robust tines
An additional hopper for more possibilities
ISOBUS compatibility for increased comfort
PF & MAXIMA 3 COMBINATION
BOOST YOUR CROPS!
Faced with the increased fertilizer cost, the search for their efficiency in a regulatory context that is becoming tougher remains an important objective. Localized fertilizer application when sowing is an increasingly common practice.
Addition of liquid fertilizer applied 5 cm from the seed allows nutrients to be added without the risk of burning or toxicity of a sensitive species during its germination,
 Adding liquid fertilizer in the furrow provides nutrients closest to the species that need them,
 Localized weeding on the row allows combining and reducing herbicide application by up to 70% compared to a conventional method. Reducing the use of phytosanitary products is also a major challenge!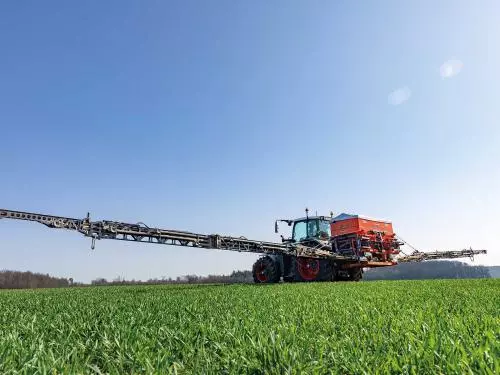 AERO 32.1
BE PRECISE, NOT WINDSWEPT!
The new AERO 32.1, with a working width of 27, 28 or 30 meters, pushes the limits of performance and precision in fertilization
Fitted with a boom of 24 diffusers divided into 4 sections, the AERO 32.1 fertilizer spreader makes it possible to precisely deliver the right dose of fertilizer in the right place. Each section is fed by a hydraulically driven metering unit that can be switched on, off and adjusted individually
With its boom system, the AERO 32.1 makes it possible to fertilize crops, included in windy conditions. Since the ballistic quality of the fertilizer or seed no longer matters, operators no longer need to refer to spreading tables
The AERO 32.1 can spread with precision right up to field edges even fine, light or compound fertilizers, such as urea and "bulk" type mixtures. Precise fertilizer distribution is ensured whatever its properties, synonymous with significant savings when purchasing this type of input
LEXIS 3800
WHEN CAPACITY AND SIMPLICITY GO HAND IN HAND!
The benefits of the LEXIS make it  a resolutely economical machine without compromising on productivity or quality of work .
Compact & lightweight: 4,000 l real capacity, barely more than 3 t empty, a maximum length of 6.90 meters and an overall width of 2.55 meters t:he LEXIS 3800 can fit into a very tight space.
Simple & efficient with its MANUSET solution or its assisted DILUSET+ version as well as intuitive terminals, using the LEXIS 3800 becomes a true child's play.
Stable & manoeuvrable thanks to its lowered centre of gravity, the LEXIS 3800 remains stable in any conditions. Its short tow eye-axle distance of 4.30 meters coupled with the TRACK ASSIST steering drawbar limit crop damage.
Precise & connected Capable of being fitted with advanced solutions like AUTOSPRAY PWM technology or BOOM ASSIST contour control system, the LEXIS 3800 does not overlook the essentials: being precise. 
I-SPRAY SMART SPOT APPLICATION
THE FUTURE LOOKS BRIGHT WITH KUHN!
Introduced for the first time at the SIMA show in 2019 on the KUHN booth, the I-SPRAY smart spot application concept keeps moving forward. Integration on KUHN Group sprayers, in partnership with CARBON BEE, latest developments as well as numerous tests and agronomic trials have significantly enriched the capabilities of the system.
An extended range of applications  from "Green on Brown" on bare ground to "Green on Green" for weed detection in crops, the I-SPRAY solution promotes a rapid return on investment. Chemical product savings up to 95% have been observed. It is also possible to broadcast at low volume while increasing the dose in a spotted manner on the corresponding nozzle when a weed is detected. In a near future, a targeted and variable application of fungicides, growth regulators and even nitrogen will be possible.
More compact and twice as light, the new hyperspectral sensors can now be positioned directly on the boom thanks to new optics widening the field of vision.
Latest-generation artificial intelligence components are completing the set, the objective always remaining to constantly monitor the crop in self-learning mode to detect weeds with always greater accuracy, classify them and avoid any systematic application which breeds the ground for herbicide resistance.
The must-see agricultural machines on the KUHN stand at SIMA 2022
Ploughing:

Tillage:
Seeding:
HR 4530 RCS
HR 6030 R
MEGANT 602 R

Fertilisation:
Spraying:
METRIS 2 iSpray
F 40 EVO ARTEC

Shredders:

Landscape maintenance:

Hay / Silage making:

Baling / Wrapping:

Bedding & Feeding:
We look forward to seeing you at SIMA.
The entire KUHN team will be at your disposal to provide you with information. 
If you want to prepare your visit or if you are not coming to SIMA,  discover our full range of agricultural machinery and our service offer.