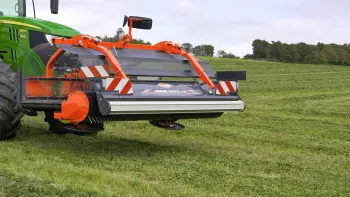 An EXCLUSIVE pick-up and double belt
The front attachment prevents forage from being compacted by the tractor wheels.
Combined with a rear rake with central delivery, the MERGE MAXX 440 F merger with its double delivery ensures an equal volume of forage on each side. The central windrow then produced remains homogeneous in density and shape: an undeniable plus for baling well-cylindrical bales, better wrapped. Homogeneous bales also ensure simple handling and easy storage without forgetting the gain in terms of preservation quality. The belt of the MERGE MAXX 440 F model is approximately 1 m wide, and optimizes forage transport and formation of the lateral windrow. Belt tension adjustment is centralized and tool-free.
The pick up quality and consistency are directly related to the design of the small diameter pick-up and WINDGUARD with roller. The cam-guided tine bars optimize forage uptake, lift and smooth transfer to the belt in combination with the WINDGUARD reel, its volute and lower roller. A vital part of the machine for creating an even windrow.