Step into Farming 4.0
From now on, regardless of the manufacturer, connect all your machines with your software and applications. 
Agrirouter platform simplifies data and information exchange processes, improving the profitability of your operation by reducing the amount of time you spend managing your data.
Thanks to agrirouter, you can access KUHN EasyTransfer, a very simple tool for transferring your data directly to your CCI 800 or CCI 1200 ISOBUS terminal or computer via the platform.
Exchange data easily with agrirouter
Agrirouter opens the doors to Farming 4.0 by positioning itself as the universal platform for the exchange of your data. How can we not feel constrained when using connected solutions on machines, software and equipment, especially when they come from different providers? By contributing to the development of agrirouter, KUHN provides a solution that allows any user to exchange their data simply and securely.
Agrirouter forwards data and does not store them
Each user can define at any time what happens to their data. All data transfers follow confidentiality rules that comply with the requirements of the main EU directives in force. Agrirouter does not back up any data; it only sends them according to your instructions. This means that the question of data backup does not even arise.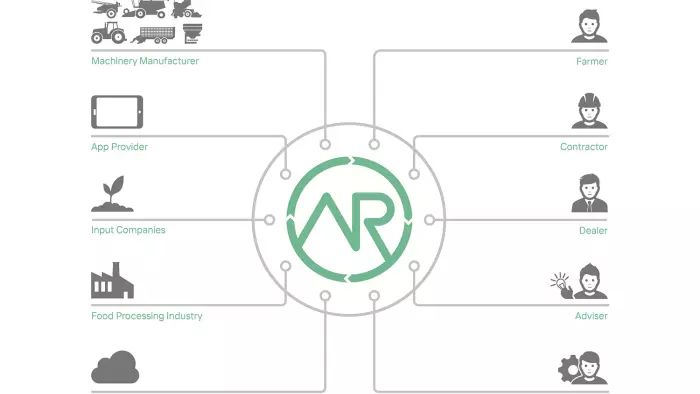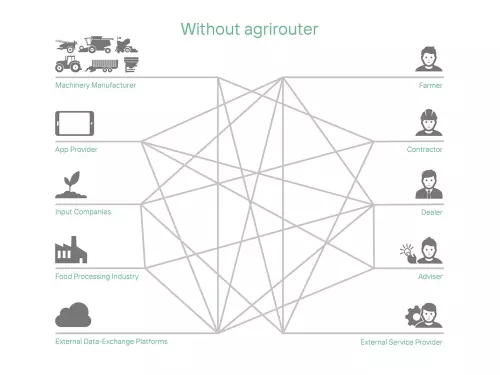 Before: without agrirouter
Opt for simplicity
Setting up data exchange between machines and solutions from different brands can be complicated for a farmer or a contractor.
Agrirouter is the platform to facilitate this step: the data is formatted in such a way as to facilitate its transmission to all stakeholders (machines, agricultural software, cooperatives, etc.) authorised by the operator. Agrirouter reduces the administrative burden and simplifies the exchange of information.
Optimise your production line from beginning to end
From seeding to harvesting, save time and collect more data with ease. For example, thanks to agrirouter, as soon as you receive your modulation or yield maps, you can transfer them directly to the terminals in the cabin to control your machines.
Each user can customize the configuration of his/her own agrirouter. The settings are simple to make and can be changed at any time. Daily handling is easy and many transfers are automated.
Find your modulation maps on your terminal in one click thanks to KUHN EasyTransfer
KUHN EasyTransfer is a digital service included in KUHN CCI Connect Pro. Get access with your MyKUHN account and manage the transfer of your documents remotely (tasks, missions, modulation maps) using the agrirouter data exchange platform. It's the tool you need to save time and make your life easier.
Optimize your time thanks to these exclusive packs
KUHN EasyTransfer is a very simple tool for transferring your data directly to your CCI 800 or CCI 1200 ISOBUS terminal or computer via the agrirouter platform. Transfer rules and recipients are set on the agrirouter platform. Agrirouter respects data confidentiality. Enjoy these new functionalities thanks to the KUHN CCI Connect Lite and KUHN CCI Connect Pro packs.