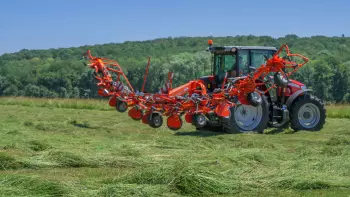 50 cm in less than 5 s with the HLC (Headland Lift Control) system.
Take advantage of the quick response of the HLC rotor lift system at headlands. You will reach a 50 cm height under the central rotors and even more on the end rotors.
Gain in reliability and work output thanks to easy maneuvering:
Reverse at the headlands.
Easily turn at the headlands.
Cross your fragmented plot without having to fold your machine. Ditches are no longer a problem!
The large rotor clearance prevents any forage buildup when maneuvering over bulky swaths.