Save more time with KUHN CCI Connect Pro
The fertilizer spreading season has just started. Optimize your time and send your prescription maps directly from your office to your in-cab terminal! With KUHN CCI Connect Pro on MyKUHN, you can concentrate on what really matters.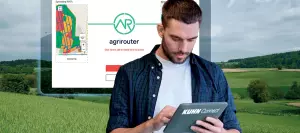 View the terminal screen remotely with CCI Remote View
With the CCI Remote View function, you limit downtime, assist or help your drivers remotely from your office!
This function is ideal for viewing work in progress remotely, helping or training a driver without moving. It is available via your MyKUHN account from your computer, smartphone or tablet. You get the ISOBUS CCI 800 or CCI 1200 terminal screen live as if you were in front of it!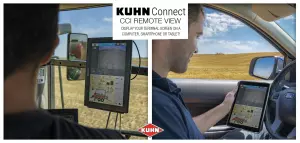 A software update is available fot the CCI 1200 and 800 terminals
With Online CCI Update feature, your machine's ISOBUS terminal is always up to date.
Currently, the update, CCI.OS 3.3.0, is available for the CCI 800 and CCI 1200 ISOBUS terminals present in your tractors. It includes new features as well as many improvements on existing ones, for example:
Improved CCI Remote View functionality
Improved intuitiveness
Evolution of CCI applications: CCI.Command, CCI.Config, CCI.Control
The update is done in a few minutes when your device is connected to the Internet. A notification appears asking you to download the new software version. Once downloaded, simply launch the update.
Send your prescription maps to your terminal in just one click!
Available on MyKUHN, KUHN EasyTransfer manages the sending of your documents remotely using the agrirouter data exchange platform. This is the tool you need to save time and simplify your life! You can thus transfer your prescription maps directly from the office to your terminal without the risk of losing or forgetting your USB key. Submit your file to be transmitted in KUHN EasyTransfer and send it. Your recipient, wherever he is, retrieves the documents directly on his terminal. Once the intervention is complete, the driver can send the task file in one click from the terminal to the office.
Before sending, preview your prescription maps or your plot outlines for a final check. KUHN EasyTransfer is the very simple tool for transferring your data directly to your terminal or computer via the agrirouter platform.
The sending rules and recipients are set on the agrirouter platform. Agrirouter respects the confidentiality of your data.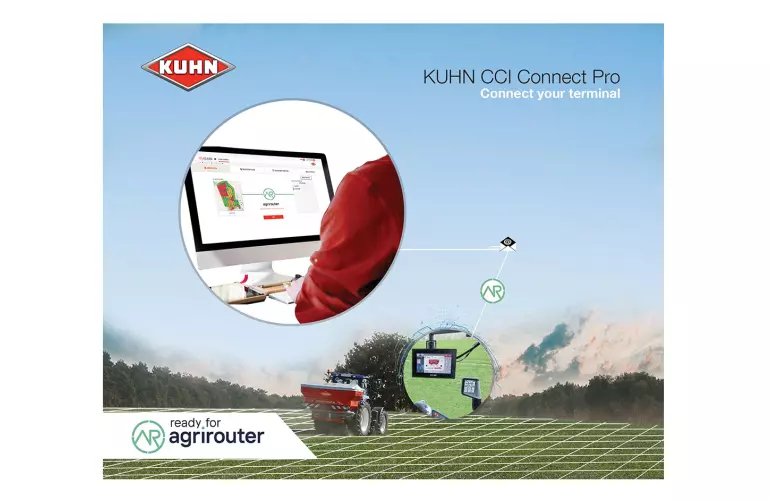 The universal agrirouter data exchange platform.
Agrirouter transfers your data, your files, your prescription maps from one place to another in complete safety. As soon as your equipment, terminals and software are connected to agrirouter, they are connected and can communicate with each other!
The ISOBUS CCI 800 and CCI 1200 terminals are compatible as standard with the agrirouter data exchange platform.
The link to my succes
MyKUHN is your online customer portal. You have access to all the exclusive services offered by MyKUHN. The KUHN Connect space brings together all your connected solutions.
Your MyKUHN portal at your fingertips
Thanks to the MyKUHN application, easily register your machine thanks to the serial number scan function.
With the MyKUHN application, registering your machines becomes:
practical: download the app and use your smartphone to register your machines,
simple: a scan of the serial number is enough