GF 15003 T and GF 17003 T: KUHN wide tedders!
The KUHN GF 15003 T and GF 17003 T tedders achieve high outputs and allow you to work under the most intensive conditions thanks to the new OPTITEDD rotor.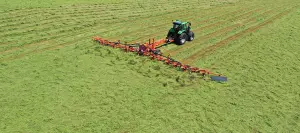 The GF 17012 tedder has been upgraded to GF 17003 T by integrating the new OPTITEDD rotor
With its 16 rotors, the GF 17003 tedder achieves high outputs. You can cover up to 15 ha/h with this model. Take advantage of the most favorable weather windows at the best time to harvest high-quality forage!
A new 15 m working width tedder in the KUHN range
The new KUHN GF 15003 T tedder, equipped with 14 rotors for 15 m tedding width, combines exceptional tedding performance and minimum drying time. It ensures homogeneous drying of the entire field and takes advantage of the weather windows at the best time to harvest the crop: your guarantee of harvesting high-quality forage!
Tedders incorporating KUHN's historical know-how
These two models feature the benefits which have built the reputation of KUHN tedders:
The Ground Save Control (GSC) system allows the rotors to follow the ground independently of the transport chassis position to achieve excellent ground following,
The Headland Lift Control (HLC) function makes headland maneuvering easier by raising all rotors in just a few seconds,
Double activation of the rotors halves the forces on the drive components,
A highly compact structure simplifies transport and storage with a machine that is just 2.40 m wide and 2.68 m high,
Maintenance-free rotor,
Asymmetrical tines for perfect raking without scraping the soil,
DIGIDRIVE drive for simple and efficient transmission of movement.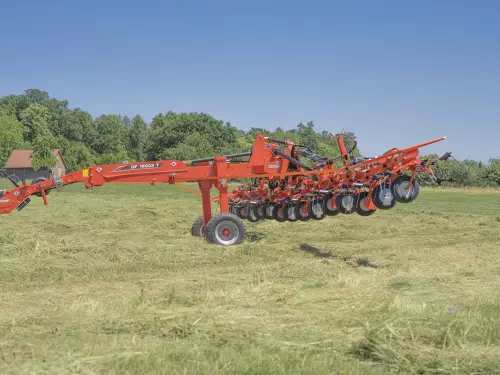 OPTITEDD, the tireless rotor
The OPTITEDD rotor adopts a design that pushes the limits in terms of resistance and service life of the working parts. The increased robustness of the rotor, arms and tines allows the machine to evolve in the most extreme conditions such as heavy forage, stony ground, etc.). Significantly reduced vibrations.
Stronger tines you will no longer lose
The heavy-duty tines mounted on the rotor have a service life that is longer than the traditional models. A prong diameter of 10 mm and 4 large-diameter coils (80 mm) contribute to greatly reducing tine fatigue without altering the flexibility they need for work. Tedding quality is preserved while reducing internal stress and constraints on the tines in heavy forage.
Tine deflectors prevent crop from riding up and wrapping around the tine and rotor. The integration of an "anti-loss" function prevents losing a tine in the forage and therefore damaging the following machines or polluting the ration.