Discover our new products in Hay and silage making
The Section Control feature automates your mowers and rakes for forage harvesting
Section control by GPS is now available on the FC 9330 RA mower conditioner as well as on GA 13231 and GA 15231 four-rotor rakes.
Take advantage of this functionality to automate individual lifting and lowering of the mowing units (FC 9330 RA) and rotors (GA 13231 / 15231) at headlands or when manoeuvring. In oddly-shaped plots and field points, the driver can focus on driving. Highly practical when carrying out intensive work! It really allows you to increase productivity.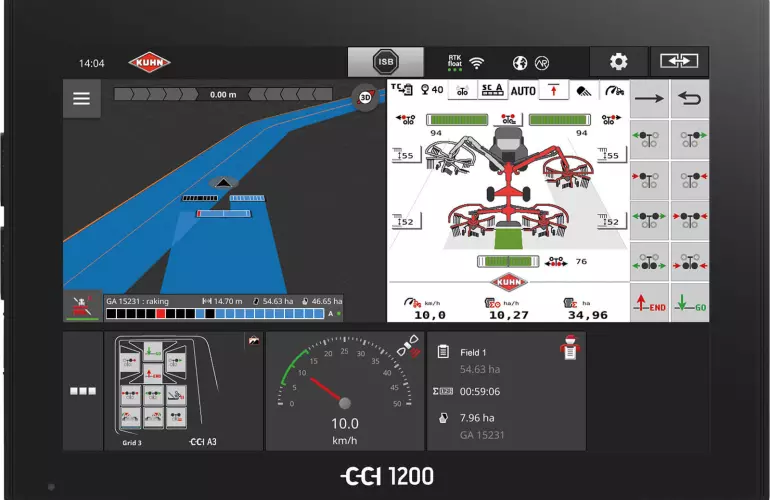 FC 1015 series: the range of vertical-folding mower conditioners has expanded 
KUHN completes its range of mower conditioners with rollers, with its new vertical-folding rear-mounted model, the FC 3515 R, with a working width of 3.50m. The mower unit folds to 126° making it extremely compact for road travel and providing optimum weight transfer to the tractor's rear wheels.  
The FC 3515 R mower conditioner is equipped with a SQUAREFLEX roller conditioner which features large-diameter (24 cm), exclusively-designed rollers. The roller conditioner has a double drive system which is synchronised for life, as standard. Some parts are made from materials like aluminium to reduce the machine's overall weight to that of a finger conditioner. It is a high-performance, high-output, and low-maintenance conditioning tool for all types of forage (alfalfa, ryegrass, meslin, etc.).  
An exclusive rake with a central crop lifter: GA 8131 CL
Another exclusive feature on the market concerns the twin-rotor rakes. The GA 8131 CL with central delivery is equipped with a patented central pick-up system that promotes aeration. The central crop lifter lifts and aerates the forage that is not worked by the rotors. The resulting central windrow is airy and more uniform which improves the quality of the forage! With its 8m working width, this model is ideal for medium and large farms.
GA 1032+ series twin-rotor rakes:  robust and versatile
The range of trailed twin-rotor rakes with side delivery has been updated with the GA 1032+ series. The updated versions remain simple to use. The sequential front-rear rotor lift is now integrated, as standard, and has been redesigned to perfect the lifting system. The machine has also been improved in terms of reliability and service life. Signalling panels that can be adjusted to 3m are available as an option to conform to traffic regulations without having to remove the arms. 
GF 13003: an exclusive model on the market! 
KUHN has developed the first mounted tedder on the market with a working width of 13m: the GF 13003 model! This tedder is the perfect compromise between the compact design of a 3-point mounted machine and a very large 13m working width, with 12 rotors! Its special design and features allow it to be coupled to medium-powered tractors. It is equipped with OPTITEDD rotors.  
VB 3200 series variable round balers
Take round baling to a new level! The four new VB 3200 models offer the best of KUHN's proven round baler concepts, combined with new features and extensive configuration options.
For large-scale farmers and contractors, the VB 3260 and VB 3290 will appeal the most - built for versatility, optimum performance and profitability. These balers deliver 10% more capacity compared to the current VB 3160 and VB 3190 models, and 10% higher bale densities in dry crops as a result of the new PROGRESSIVE DENSITY PLUS option.
VB 3255 and VB 3285 balers are tailored to farmers looking for a multi-purpose and strong machine that is easy to operate. Their proven intake and bale chamber concept combined with a simple, yet sophisticated design offers reliability and performance in a wide variety of crops.