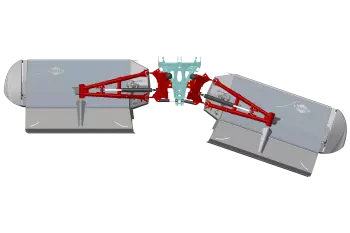 The key to clean forage: LIFT-CONTROL hydro-pneumatic suspension
Lowering the level of impurities from 4 to 2 % per year, means gaining 89€/ha/year*. With the LIFT-CONTROL hydro-pneumatic suspension system, controlling the impurities is no longer a problem. It is far more than a suspension system, using an accumulator instead of the traditional spring.
The exclusive kinematics of the triple gang mowers in this range include a cylinder for the suspension of the mowing unit (1), a safety release cylinder (2), an accumulator with adjustable pressure (3) and a pivot point strategically positioned close to the machine's centre of gravity (4).
The adjustment adapted by the suspension system limits the introduction of impurities in the forage and reduces the ground pressure of the cutter bar, therefore a reduction of the fuel consumption and skid wear, and the sward is preserved.
*Researchers from the Chamber of Agriculture of Weser Ems (Germany) have carried out a study in a german forage producing region. They compared 2 silages, one with a level of impurities of 2 % and the other with 4 % in order to determine the financial impact on a dairy farm. After having measured the nutritional value of the silage of poorer quality, they calculated the value of concentrates that needed to be added in order to reach the same level of milk production.