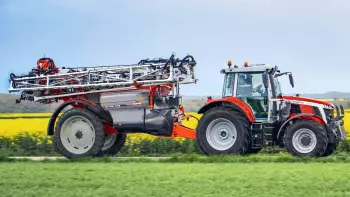 A stable and manoeuvrable sprayer
With a hitch-to-axle length of 4.40 m and a height of 3.40 m (with 36 m booms), the METRIS 2 trailed sprayer features extremely compact dimensions. The machine's short length allows for ultra-tight manoeuvres at the headlands, tracking is thus of better quality and will limit crop damage. A short hitch-to-axle length makes handling the machine easier. Entering fields and backing up in corners is also easier.
The shape of its tank is specifically designed to integrate the boom into the design, and also to limit the height once the boom is folded. The low height of the METRIS 2 trailed sprayer makes it more stable for transport. Drive on roads and enter fields in safe conditions.
This compact design makes for quick and easy road travel and storage.