PZ 1000 series drum mowers, a complete and new range
Started in 2019, we gradually renewed our 4-drum mower range. Today the
PZ 1000 series has replaced all 4 drum-models of the PZ 100 series. The new and improved features are being integrated whilst retaining some important aspects from the previous models.
The PZ 1000 series range consists of front, rear and triple models: 
Front mowers
The PZ 2721 F, PZ 3021 F and PZ 3221 F provide working widths of 2.69, 3.04 and 3.19 m respectively. Their main features: 
Continuous height adjustment with 45 mm range 
Narrow swath provided by the typical PZ knife plate layout, secured via the standard swath discs 
V-belt driveline protection for a smooth start-up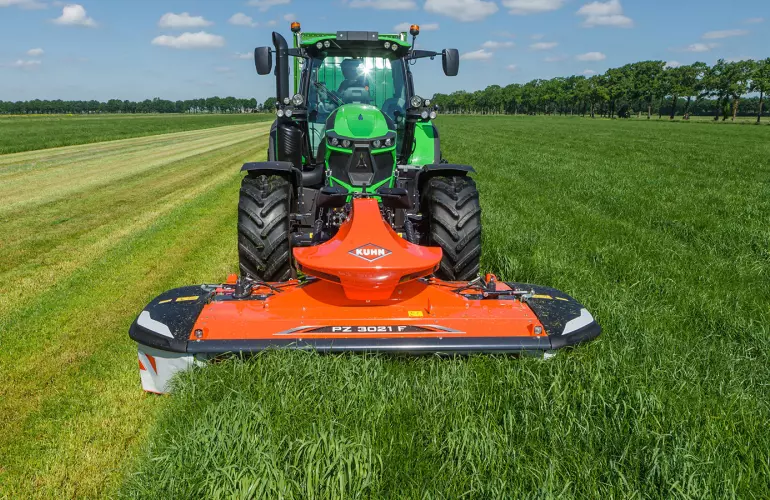 Rear mower
The PZ 3015 rear drum mower, with a working width of 3.04 m, is designed for optimal ground following and mowing performance, even in the most challenging of conditions. This is particularly due to a sophisticated headstock design with trailed linkage geometry. Other important characteristics: 
Vertical hydraulic folding to 128°  
Optional parking stand for vertical storage to 3.6 m  
Height adjustment via spacers with 44 mm range 
LIFT-CONTROL ground pressure compensation and non-stop safety breakaway 
Triple mower
High capacity with a low power requirement is what characterises the PZ 8831 triple drum mower (working width of up to 8.84 m). Due to its compact design and low power requirement the machine is suitable for medium and large size tractors. Additionally, the PZ 8831 features: 
LIFT-CONTROL hydro-pneumatic suspension system for uniform ground pressure 
Optional reverse drive kit 
Height adjustment via spacers with 44 mm range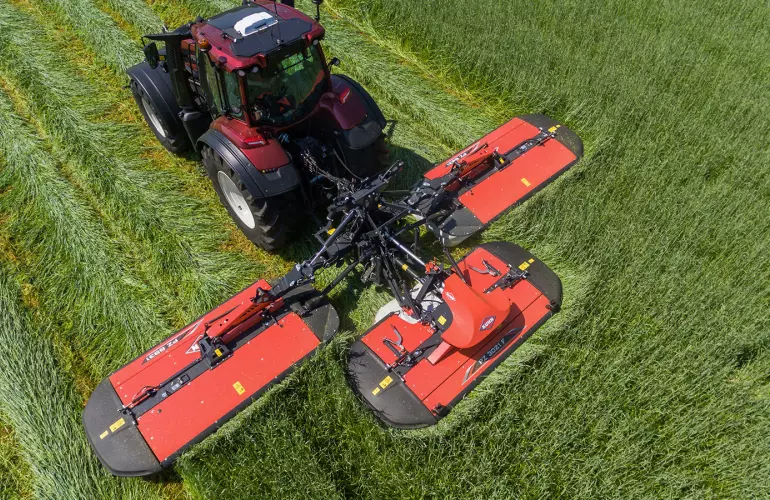 Optimal mowing performance even in the most challenging crop and soil conditions, remains the main feature of PZ drum mowers. Benefit from:  
Swath width and cutting height adjustments 
Simplified maintenance procedures 
Uneven sized diameter knife plates to produce a uniform swath formation 
Easy knife changing process to lower downtime  
FLEXPROTECT protective side covers to increase robustness  
Standard road lights positioned around the machine