KUHN VBP 7190 awarded FARM MACHINE 2023
The new KUHN VBP 7190 baler-wrapper combination has been awarded FARM MACHINE of 2023. The expert judging panel declared the VBP 7190 the winner in the Baler category and praised its extreme versatility. The award was presented at SIMA 2022 in Paris.
The baler-wrapper combination voted by European agricultural journalists
According to the FARM MACHINE 2023 judging panel, consisting of European journalists, the VBP 7190 stands out in versatility:
"Straw or forage, film or net wrapping, the farmer can choose without having to spend too much time changing. Whatever the conditions, almost anything can be done!"

Indeed, the VBP 7190  variable combination baler is the most powerful and versatile machine in its segment. With this machine, contractors and farmers can rely on a constant high performance in all circumstances. From producing large, dense straw bales to perfectly shaped, short crop silage bales with high moisture content.
Built with exclusive KUHN systems:
i-DENSE density regulation system
Integral rotor intake system with up to 23 knives
TWIN-reel film binding system
Moreover, the durable, heavy-duty construction ensures maximum capacity, from intake to wrapping.
"FARM MACHINE 2023, an acknowledgement for the entire team behind the VBP 7190. It is not just a baler and a wrapper, it is a unique, versatile and powerful combination. This also applies to all the different departments who were involved in developing this machine. It is not just an group of individual colleagues but a team that achieves more by working together! I am proud to be a member of that team.

We are looking forward to present the VBP 7190 to farmers and contractors at shows and field demos around the world."
Peter van Hoek – Product Manager Baler-Wrapper Combinations KUHN-Geldrop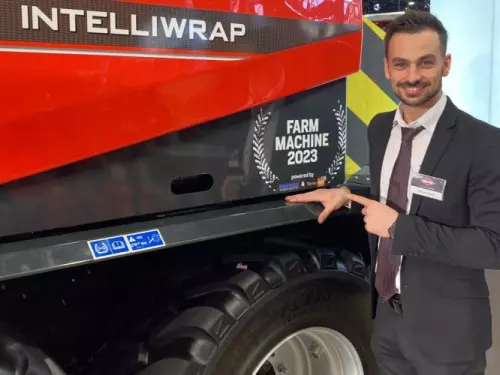 "On behalf of the entire KUHN team, I would like to thank the organisation and the judging panel for the award in the Baler category. Thanks to our daily commitment to constant development and innovation, there is no comparable baler-wrapper combination on the market. We take pride in meeting the needs of our farmers for today and tomorrow."
Valentin Ribes – Sales Manager Balers KUHN France
The entire KUHN team is very proud of this distinction!
The FARM MACHINE 2023 trophy was presented by Benoît Egon to Thierry Krier (CEO KUHN Group), Christian Fischer (Head of KUHN France) and Valentin Ribes (Head of Harvest Sales KUHN France), on Sunday 6 November 2022 at SIMA.
To discover the specificities of the VBP 7190 which win the FARM MACHINE 2023 award, consult its detailed presentation.