KUHN launches a range of mechanical weed management implements
KUHN launches a range of mechanical weed management implements : ROWLINER row-crop cultivators TINELINER tine weeders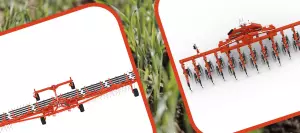 Mechanical weeding will now be carried out in KUHN colours!
The trend towards a more restrictive use of pesticides is leading farmers to explore alternative solutions for weeding arable crops.
KUHN's crop care product offering of shallow tillage and spraying solutions will expand to include a range of mechanical weeding implements.
ROWLINER row-crop cultivators
with 6 to 12 rows.
TINELINER tine weeders
with a working width of 6 to 12m.
As a second step, STARLINER rotary hoes will be introduced on the market in 2025.
Find out all about our new range
on the KUHN stand in Hanover
at the forthcoming Agritechnica 2023.