Europe's most modern test hall for fertilisation
When using fertiliser spreaders, it is important to have an optimum machine setting. To provide precise specifications in the most modern test hall in Europe current and future fertiliser spreader models are tested.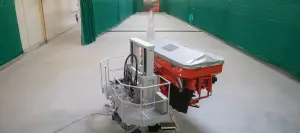 With an area of 1,235 square metres, this test center enables to carry out around 3,000 spreading tests per year on working widths of up to 75 metres. The hall is fully air-conditioned, which ensures optimum test conditions throughout the year. The temperature is regulated from 20 to 25 °C and the air humidity is kept at maximum 55%. To carry out these tests, 88 fully automatic collection trays provide information on the spreading regularity of our machines.
Thanks to this innovative test center we provide…
recommendations for new types of fertilisers  
precise setting charts to ensure the best spreading result in all working conditions
overall testing of new machines in the development phase