Effortless work with a simple and well-designed mower-conditioner
The new mower conditioners FC 3155 and FC 3555 TLR combine simplicity and quality of work. Their optimized design integrates all recognized qualities of the KUHN range. They thus perfectly complete the offering in mower conditioners intended for fodder producing farms.
The two new trailed models FC 3155 TLR and FC 3555 TLR are available with working widths of 3.10 m and 3.50 m respectively. These two side-drawbar mower-conditioners benefit from the SQUAREFLEX roller conditioner. This roller conditioner ensures efficient and regular conditioning with all types of forage (alfalfa, ryegrass, meslin, etc.), while maintaining their quality, and minimizes maintenance time.
The models are fitted with the OPTIDISC ELITE cutter bar, renowned for its robustness and cutting quality in all conditions. Easy to use, this cutter bar requires no maintenance and comes standard with the FAST-FIT quick knife release system. The farmer benefits from improved cutting overlap between the diverging discs and more space between the converging discs for better rearward forage flow evacuation.
The two machines feature a spring suspension which ensures efficient ground pressure reduction of the mower unit and perfect ground contour adaptation. The plant cover is preserved even in humid conditions.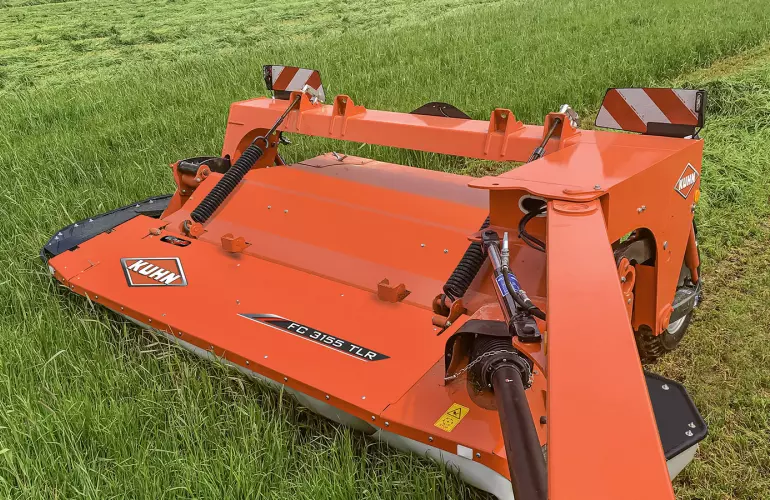 Farmers will benefit of the ease of operation and adjustment. The machines are particularly manoeuvrable thanks to their compactness and the GYRODINE headstock which keeps the primary PTO drive remains straight during U-turns. They therefore adapt perfectly to work in narrow plots and are compatible with small tractors.
The FC 3155 TLR and FC 3555 TLR mower-conditioners are therefore the ideal compromise between simplicity, quality of work and robustness.