Binding & wrapping solutions in videos
TWIN-reel film binding, INTELLIWRAP, 3D-wrapping, … KUHN offers a broad variety of unique binding and wrapping technologies to produce the perfect bale. To explain how they work and above all, how they can be of benefit to you, we launch the video series FOCUS ON BALING. Each video covers one topic and is a short 2 to 3 minutes long.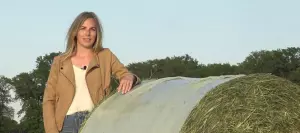 FOCUS ON BALING // Net binding vs. film binding
FOCUS ON BALING // What makes KUHN film binding unique? 
FOCUS ON BALING // KUHN INTELLIWRAP, how it works 
FOCUS ON BALING // Why is a 3D wrapped bale better