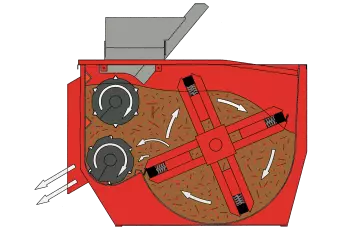 Gentle, Thorough Mixing
The Reel Auggie mixer blends by gently lifting and tumbling all feed ingredients. This produces a fluffy, more palatable ration that promotes increased consumption and better herd health.

The gentle tumbling action of the large-diameter reel works together with the two side blending augers to produce end-to-end and side-to-side mixing action. The reel design eliminates much of the force and pressure inherent to most other mixer designs. This results in lower horsepower requirements, reduced machine wear and less feed breakdown.