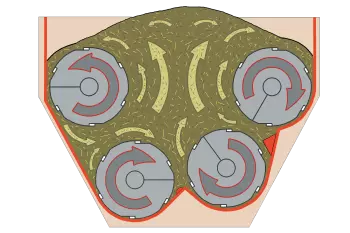 A Quality Ration and Complete Cleanout
A Quality Ration and Complete Cleanout
The raised lower right auger configuration, along with the close tolerance between the auger flighting and the auger troughs, results in a fast and complete cleanout. The offset upper right auger in combination with the raised lower auger requires less horsepower and provides a faster mix time.

Mix Full or Partial Loads Due to the cross-mixing action of horizontal auger mixers, Botec TMR mixers can properly mix batches that fill only a portion of the mixing tub providing you with the versatility to mix any size ration.

Even, Consistent Discharge
The close auger tolerances and raised lower auger design provide a fast, consistent discharge from beginning to the end of unloading. This results in even feed placement across the entire length of the bunk without a delay for mixer cleanout.