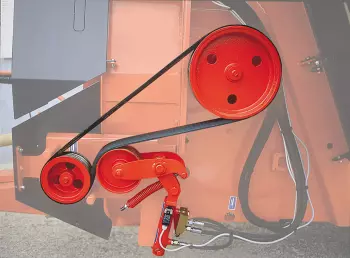 POLYDRIVE feed rotor drive
With the POLYDRIVE patented system, the feed rotor benefits from the power generated by the turbine flywheel. Distribution of long-fibre forage is no longer a chore.

With a drive belt that can be disengaged as required via the electric controls in the tractor cab, you can cut the forage flow when obstacles are encountered along the feed passage (posts, drinking troughs, passing farm workers, etc.).

All it takes is 2.5 minutes to distribute a 1.4 m bale of haylage!