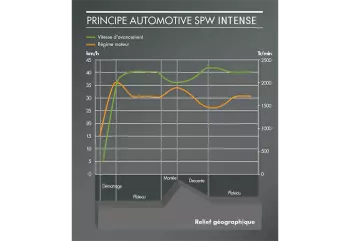 AUTOMOTIVE motion
From an economical aspect, the SPW Intense is a machine whose running costs are among the lowest on the market. The SPW INTENSE models feature a VOLVO 6-cylinder, 250 hp turbocharged engine, a next-generation design that sprays Ad Blue into the exhaust to reduce nitrogen oxide emissions.
The more energy-intensive functions such as the loading/mixing process, distribution and transport are performed at very low engine speeds. Designed for optimum efficiency, the engine produces maximum torque and power at a low engine speed. The cylinder capacity is greater than the previous generation, providing 10% more torque. High performance is achieved at incredibly low fuel consumption levels.
For maximum productivity, maintenance schedules can be set every 1,000 hours.
The engine compartment is positioned at the rear of the machine, providing incomparable traction thanks to the load transfer. Noise reduction will also be appreciated in the cab.