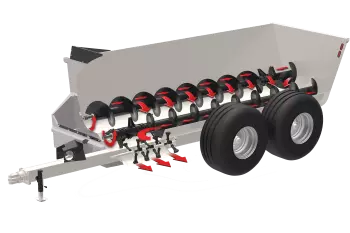 ProTwin Design
The raised, right auger moves material rearward to keep the load level. The left, lower auger moves material forward to continuously feed the discharge door.
Consistent Flow to the Discharge
The steep, slanted sides help provide a reliable material flow, continuously feeding material down to the augers. Combined with the unique auger design, this helps ensure constant delivery of material to the swinging hammer discharge.
Eliminates Bridging
The well-proven, twin-auger design eliminates material bridging. The two augers work together to create a bidirectional flow that provides constant agitation and steady movement, even with the most challenging materials.