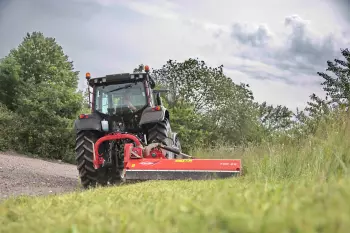 For shredding in any situation
The TBE 10 and TBES 10 are suitable for multiple uses: working behind the tractor for roadside maintenance, in offset or tilted position for maintaining embankments, ditches and hedges.
Their kinematics allow them to work from -65 degrees (ditches) to '90' degrees (hedges).Grass and reeds will not resist them.
Thanks to its externally fitted gearbox, the TBES 10 series shredder has a larger lateral offset than the TBE 10 models. It can reach between 2.66 and 3.29 m from the centre of the tractor.
This feature provides you with the following benefits:
The shredder can work in a centred position behind the tractor, offset or tilted for the maintenance of ditches or embankments.
The TBES model is the ideal solution for large tractors.
The design is interesting when working in combination with a front shredder.