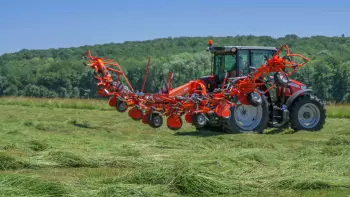 50 cm in less than 5 s with the HLC (Headland Lift Control) system
Take advantage of the speed of the HLC rotor-lift system at headlands. The clearance of the central rotors on GF 8703 and GF 10803 tedders reaches 50 cm, and the outer rotors lift even higher.
An easy-to-handle machine for faster output and increased working comfort:
Reverse into points.
Your headland turns are made easy.
Drive between your field patches without folding your machine. Ditches are no longer a problem!
High rotor clearance prevents forage from getting wound round when manoeuvring over large windrows.
Forage is tedded once only at headlands and drying time is uniform over the whole plot.