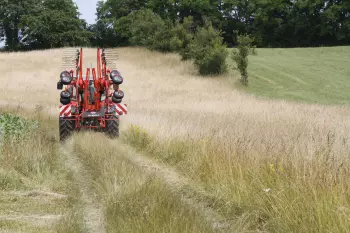 2.50 m in transport mode
Driving from one plot to another is made simple due to the machine's narrower transport width. The GA 6501 P mounted model is ideal for farmers looking for the manoeuvrability of a mounted machine combined with the large working width of a twin rotor rake.
It can be adjusted from 5.65 to 6.40 m by increasing the space between the two rotors.
The fixed headstock and four pivoting wheels guide the rotor with great stability on bends. Plant stubble is therefore preserved and entering the plot is easier than with a trailed model.
Changing from transport to work mode is managed from the tractor cab thanks to the rake's integrated lift system. Hydraulic rotor lift facilitates headland turns and ensures high clearance for passing over swaths. It is not necessary to use the tractor's lift system. Result: one double acting valve is sufficient for all manoeuvres.
In addition, you save storage space in your sheds with the GA 6501 P as it folds up, vertically supported by its special parking stands.