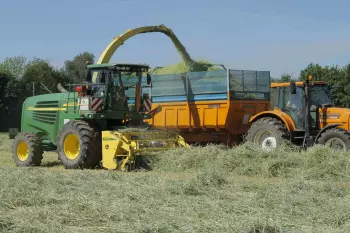 Increased work output
Your harvesting material can work at faster speeds when windrows are regular. At constant speeds, drivers have less operating stress:
No slowing down for dense areas.
No accelerations for sparse areas.
They can concentrate on what is important rather than having to worry about groundspeed.
With the MERGE MAXX 950 belt merger, you also reduce the peaks in operating stress put on harvesting machines. MERGE MAXX 950 users attest to increasing working speeds by 2 to 3 km/h! You too can improve all-round productivity.
Less soil and stones in the windrow reduces wear to the intake system and operating costs.