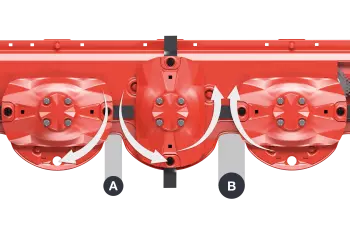 A perfect cut with OPTIDISC ELITE
The new OPTIDISC ELITE cutter bar was developed with farmers. Variable spacing between the discs, large overlap zones and the reduced angle of the OPTIDISC cutter bar will provide you with the quality you need. The GMD 5251 TC mower are equipped with this cutter bar and its latest upgrades that guarantee a clean cut at all times. The OPTIDISC ELITE cutter bar includes exclusive features:
Spacing is reduced at the point where the discs diverge to increase knife overlap. This results in a clean cut, even in light or short grasses (A).
Distance is increased at the point where the discs converge. This makes more space for the crop to pass through which is quickly carried away to the rear so that the mower can do its job undisrupted (B).
The overlap zone is almost doubled resulting in better cutting quality in damp sticky ground (or with mole hills), in heavy and laying crops, and in plant cover harvested at the end of autumn.
A smaller pitch angle: this prevents the undulating cut which is typical with close mowing. It also stimulates homogeneous and faster regrowth and makes it easier to adjust the machines that follow.
New disc bearings with exclusive shape and attachment which hold the knives firmly in place in the event of impact while granting 360° rotational freedom.
Earth can build up in front of a cutter bar on hilly plots or in wet and sticky conditions, but not with the OPTIDISC ELITE cutter bar! It has specially designed skids to improve sliding and preserve the sward. Another advantage for forage quality, especially in difficult conditions.