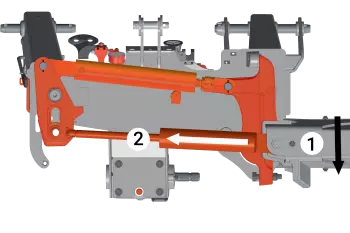 The key to clean forage: LIFT-CONTROL hydro-pneumatic suspension
Reduce the rate of impurities from 4 to 2% per year to save €89/ha/year*. With the LIFT-CONTROL hydro-pneumatic suspension system , impurities are no longer a problem. It is much more than just a suspension system, using an accumulator instead of the traditional spring.
When the cutter bar glides across the ground, it is inevitably subject to rearward stress (1). The higher the rearward stress, the more the ground pressure is reduced (2), thus adapting to uneven terrian. There are two advantages to this: plant cover is preserved and less impurities get into swaths.
In addition, the suspension system is very easy to adjust from the tractor cab.
*Researchers at the Weser Ems Chamber of Agriculture (Germany) carried out tests in a forage region in Germany. They compared 2 types of silage, one with 2% of impurities and the other with 4%. The purpose of the test was to determine the financial impact on dairy farms. After measuring the nutritional value in the lower quality silage they calculated the amount of concentrate that needed to be added in order to reach the same level of milk production.