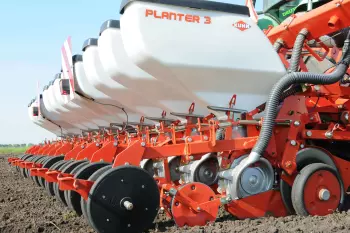 An optimised sowing unit
The sowing unit on the PLANTER 3 precision seed drills has been improved. First, the research and development team decreased the seed release height to less than 10 cm from the soil. Dedicated to any type of seed, this sowing unit has the best precision between seeds. There are three types of PLANTER 3 sowing units:
rear gauge unit: an economic solution equipped with a support point at the rear for deep seeding.
pendulum unit: oriented to beet, this unit has two support points at the rear and front for a perfect depth control on a prepared soil.
opener disc unit: for work in the presence of plant residues and on homogeneous ground; this unit controls the depth via front gauge wheels and a rear gauge. The furrow is also opened by two discs.
Distribution is another improved aspect of the PLANTER 3 sowing unit. Equipped with a high-strength aluminium casing, the selection of the seed is made by air depression, the selector has had its reliability increased and the mechanical ejection offers improved regularity.
Finally, the seed drill is equipped with a rigid parallelogram over its ensemble and an H-beam clamp to facilitate inter-row modifications.