Discover our new products in tillage and seeding
A new disc stubble cultivator
OPTIMER disc stubble cultivators: an additional model and new equipment to enhance the range
KUHN is launching a 12.5 metre working width model in its OPTIMER range for use in CTF (Controlled Traffic Farming). The aim is to establish fixed tracks in the field for all machinery and equipment, thus reducing the percentage of compacted soil to a minimum. By using this technique, soil quality is improved, with better infiltration and water retention leading to higher yields. 
The right equipment to improve stubble cultivation performance: 
The shredder roller is available for working in cover crops or crop residues. 
The levelling board helps level the furrows and break up clods before the discs pass through. The intermediate harrow distributes the straw across the entire width of the machine before the roller passes. 
The rear harrow, placed behind the roller, meets various needs:
- Mechanical weeding, with the roots exposed to air after the roller has passed, 
- Surface treatment of larger aggregates,  
- Distribution of straw or residue. 
With the cover crop seed drills and the front hopper kit, KUHN offers a global seeding solution by carrying out two operations in a single pass. 
Our  new precision seed drill
KOSMA TI – TIM: Launch of the KOSMA frames with adjustable spacing
Three years after the launch of the KOSMA range of precision seed drills, two new models have been added to the range: the KOSMA TI (Telescopic Adjustable) and TIM (Telescopic Multiple Adjustable). These seed drills are ideally suited to mixed crop-livestock farming cooperatives and cereal growers, particularly for seeding maize and sunflowers. 
The new KOSMA TI/TIM frames with adjustable spacing stand out from the rest of the range because of their adaptability. With the TI frame, you can seed a wide range of crops in 6 rows between 45 and 80 cm apart. With the KOSMA TIM, you can switch from the 6-row to the 7-row version in no more than thirty minutes, so you can sow tightly-spaced crops on an extra row without having to add another one. These seed drills offer the possibility to increase the crop rotation and ensure greater profitability for the farm easily. Crop rotation helps improve soil quality and fertility, and control diseases, pests and weeds. 
New integrated seeding combination
VENTA 330: light and compact design 
The new VENTA 330 completes KUHN's range of light and compact, pneumatic seeding combinations developed to meet the requirements of mixed-crop and livestock operations or medium-sized cereal farms. 
It works at a width of 3 m with small tractors from 120 hp. In keeping with the rest of the range, it is designed to be quick to hitch, to load, and to adjust. 
Its special feature? It is equipped with SEEDFLEX 100 seeding units with double, offset discs for perfect furrow opening. The double discs are mounted on a parallelogram and come with press wheels that control seeding depth with precision and optimize seed-soil contact. 
Important to note! With the arrival of the new VENTA 330, the whole VENTA 100 range has been updated to be ISOBUS-ready. KUHN now offers a full range of electronic solutions for managing seeding with an ISOBUS terminal or with the VT 30 terminal for non-ISOBUS tractors. 
New foldable seeding combinations with front hopper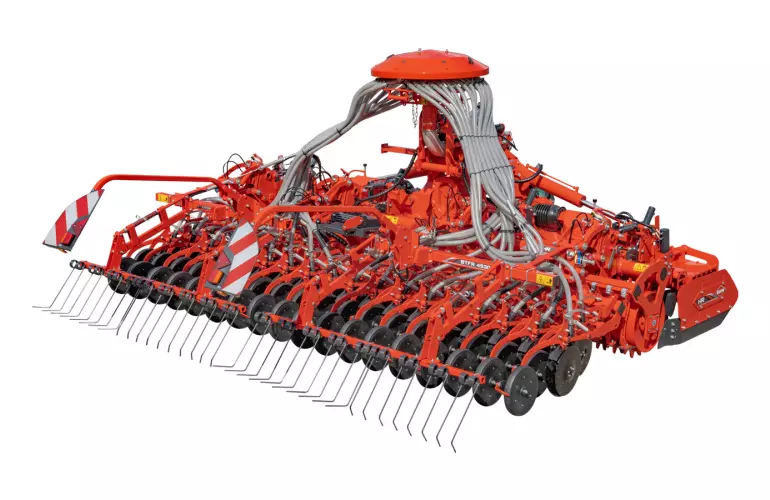 HR 1030 RCS + BTFR 1030: new working widths 
New models with a working width of 4, 4.5 and 5 m complete the range of KUHN pneumatic and folding seed drill combinations equipped with SEEDFLEX 1000 seeding units. 
The new HR 4030 RCS, 4530 RCS and 5030 RCS foldable power harrows are designed to work solo or as part of a combination. They are suited to tractors up to 300 hp. (350 hp. for the 5 m model). Their standard hydraulic working-depth and levelling-bar settings enable real-time adaptation to the type of soil and the desired result.  
The new BTFR 4030, 4530 and 5030 foldable seeding bars are available with row spacings of 12.5 or 15 cm. They are equipped with SEEDFLEX 1000 seeding units which ensure precise and regular seeding, including at high working speeds. They are fitted to the power harrow's roller frame to limit overhang and to bring the centre of gravity closer to the tractor. At work, this configuration has excellent ground-following capacities. 
HR RCS + BTFR 1010 / 1020: new seeding units 
New seeding bars with Suffolk coulters and single discs complete KUHN's range of foldable pneumatic seeding combinations! Light and versatile, these seeding bars can adapt to the most difficult conditions.  
The BTFR 6010 seeding bar, with a working width of 6 m, comprises seeding units with 3 rows of Suffolk coulters adapted to clayey, wet, and stony conditions. The BTFR 4520 and 6020 seeding bars have working widths of 4.5 and 6 m respectively and come with seeding units with single-disc coulters. The large-diameter discs are positioned over 2 rows giving them the capacity to sow in residues and wet conditions. The seeding-depth and coulter-pressure settings are hydraulic and include a low-stop system that provides precise control over seeding depth, including when shallow seeding at high pressure. 
Coupled to a KUHN HR RCS power harrow and TF 1512 ISOBUS front hopper, the combination forms a compact and well-balanced unit that can be managed with one single ISOBUS terminal! 
HR RCS + BTFR or KOSMA CSM: new seeding combinations for cereals or precision seeding 
These new seeding combinations are made up of 3 or 4 modular machines: a front hopper, a power harrow, a cereal seeding bar and/or bar with precision seeding units. 
In addition to the HR RCS + BTFR seeding combinations, KUHN introduces the new KOSMA CSM precision seeding bars. They are made up of 6 or 8 rows 75 cm distant to work over 4,5 or 6 m. Coupled with a HR RCS range power harrow and the TF 1512 ISOBUS front hopper, the unit allows you to prepare the soil, sow, place the fertilizer and distribute micro-granules in a single pass for savings in labour, time and fuel!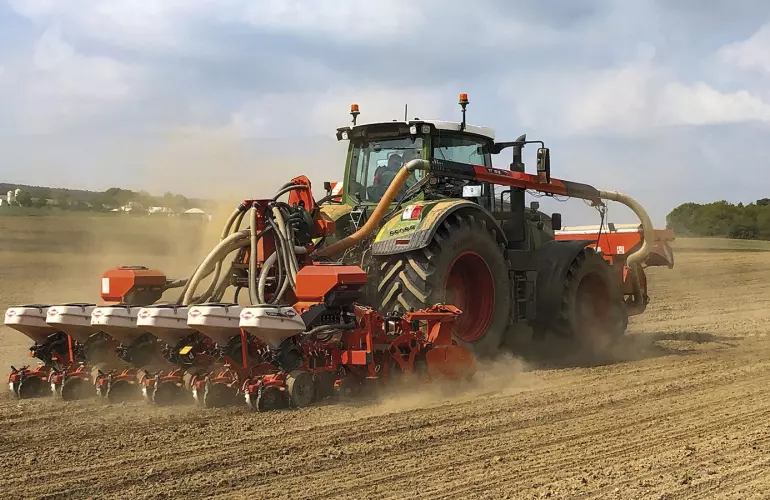 The seeding bars are fixed on the roller frame of the power harrow. The advantages are numerous: a centre of gravity as close as possible to the tractor, perfect integration, reduced lifting power requirement, constant seeding depth regardless of the power harrow working depth and good ground following.