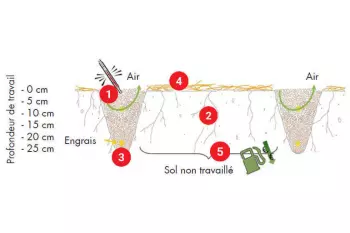 What is strip-till?
Strip-till is where only the future seed furrow is cultivated, preserving a layer of undisturbed residue in the inter-row. By working only in the seed furrow, you give the crop every chance of success just like a conventional preparation. In the inter-row, you benefit from the advantages of direct seeding: water conservation, supression of weeds, improved soil biology and reduced mechanisation loads.
Strip-till is defined by four points:
Vertical tillage
Cleaning of the furrow
Fertilisation
Preparation of the seedbed
With the STRIGER 100, you accumulate the advantages:
Lower mechanisation costs with a reduction in working hours and less fuel consumption
More economical use of fertiliser because it's placed exactly where you need it enabling you to reduce the dose
Reduction in the use of weeding products thanks to the soil being covered with a layer of residue
And all that for identical or even higher yields!